November 2023
Ardea Resources makes the cover of Australia's Paydirt magazine November issue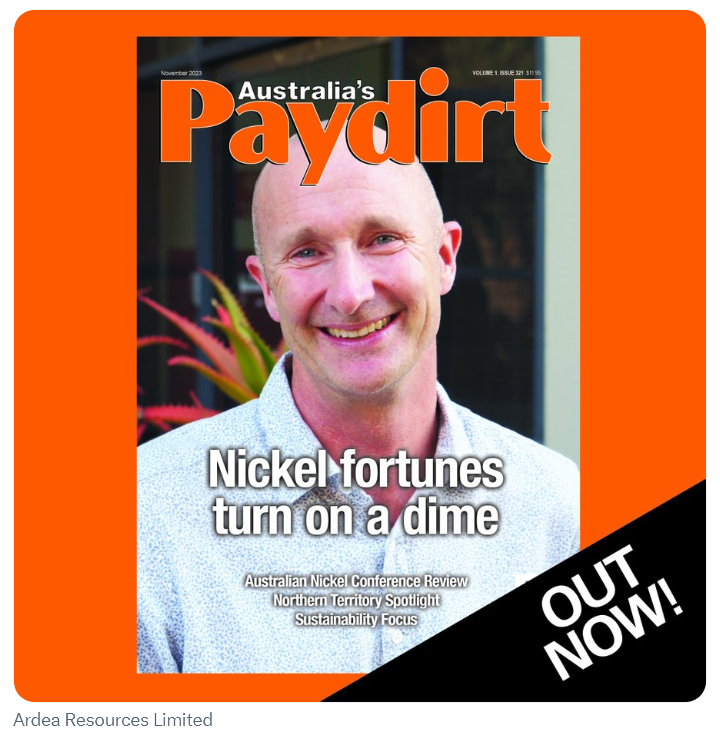 August 2023
EIS diamond hole drilling commenced - exploring for Nickel Sulphides in the Walter Williams Formation at Goongarrie Hub - Highway deposit.
A busy week at Kalgoorlie-Boulder Diggers and Dealers 2023, concluded with Ardea's CEO & MD Andrew Penkethman presenting a compelling KNP Goongarrie Hub PFS update, and not one but two fully booked KNP Site Tours.
The Ardea Team at the Diggers and Dealers 2023 Conference in Booth 92 with plenty of information and detail about Ardea's recent ASX Announcements regarding Mineral Resource and Ore Reserve updates, the strong Pre-feasibility study results and the KNP Goongarrie Hub MOU recently signed.
May 2023
Ardea is working with industry-leading consultants and service providers to complete the KNP Goongarrie Hub PFS. An important part of this was a site visit during May 2023 by members of the Wood engineering team to assess firsthand the multiple project development and operational benefits of being part of the City of Kalgoorlie-Boulder community and having direct access to infrastructure and experienced personnel.
April 2023
Ardea's MD & CEO Andrew Penkethman presenting as part of the Austrade Japan Critical Minerals delegation – April 2023
A look back in time – Comet Vale
Comet Vale adjoins the Goongarrie nickel laterite tenements located to the south and the Highway tenements located to the north.
The Evans family have kindly shared insightful historical information from their time of living as gold miners at Comet Vale from the 1940s to the 1960s. Their anecdotes contribute to the stakeholder and historical documentation required for the Pre-feasibility Study.
March 2023
Paydirt's Battery Minerals Conference 2023
Ardea Managing Director and CEO, Andrew Penkethman, attended the InterBattery 2023 event in Seoul, where he was part of the Team Australia booth and presented at the Australia's Future Battery Supply Chains Seminar and attended several government and industry meetings.
Dam Water testing work at Goongarrie Hub - March 2023
Perrinvale and Ghost Rocks LCT rock chip sampling - January-March 2023
February 2023
RIU Explorers Conference
December 2022
Andrew Penkethman, Ardea's MD and CEO, has been part of an Australian Critical Minerals Delegation to Europe organised by Austrade. He has been presenting to Government representatives, Lithium-ion battery manufacturers and OEMs who are looking to secure meaningful quantities of ethical and sustainable nickel and cobalt.
October 2022
Ardea Managing Director Andrew Penkethman took part in Austrade's critical minerals delegation to the Republic of Korea during October.
Australian Nickel Conference
September 2022
Ardea Managing Director Andrew Penkethman is in India this week participating in the Austrade Critical Minerals delegation.
His feedback from meetings undertaken thus far indicates that current market forecasts for the expansion of the lithium-ion battery sector and requirement for key battery minerals such as nickel and cobalt, tend to underestimate the rapid uptake of EVs within India. With Ardea's Kalgoorlie Nickel Project hosting the largest nickel-cobalt deposit in Australia, Ardea is well placed to provide sustainable and ethical battery mineral supply to help meet future demand.
As part of this trip, the delegation visited the Ola Electric Factory.
August 2022
10 August: The Ardea team on the ground during a recent KNP Goongarrie Hub site visit.
2 August: Andrew Penkethman (MD & CEO) and Mat Longworth (Chair) available for questions at Diggers and Dealers 2022.
July 2022
20 July: Alex Mukherji, General Manager – Land Access and Compliance, and Andrew Penkethman, Managing Director and CEO, are at the Noosa Mining Conference which commenced today. Andrew will also be presenting to the conference on Friday 22nd 9.30pm EST.
11 July: Ardea team visiting the FBICRC cathode precursor production pilot plant, at Curtin University, Perth Western Australia
June 2022
Mike Miller (General Manager – Technical) and Mat Longworth (Chair) with members of the Ardea Kalgoorlie-Boulder based team on site at Goongarrie
April 2022
2022 Student Meets Industry Night – AusIMM Kalgoorlie Student Chapter, Thursday 28 April 2022
March 2022
Siberia Water drilling
Exploration drilling at the Emu Lake Nickel Sulphide Camp
February 2022
RIU Explorers Conference
January 2022
Emu Lake nickel sulphide discovery confirmed with 2.72m @ 5.42% Ni • AELD0003 Diamond drill core showing high grade massive sulphide • Learn more
December 2021
Ardea personnel attending a Cultural Awareness Training session in West Kalgoorlie on 8 December 2021, led by well-respected Eastern Goldfields Aboriginal Elder, Aubrey Lynch.
The annual St Barbara's Day parade through Hannan Street, Kalgoorlie-Boulder, shows the great support of the resources sector from the City of Kalgoorlie Boulder.
August 2021
The drilling is underway at Highway as part of our Goongarrie Hub metallurgical testwork program.
Diamond drilling to collect metallurgical samples for Goongarrie Hub testwork, August 2021.
Diggers and Dealers Mining Forum
June 2021
Andrew Penkethman (right) and Darren Howe at the Meet the Suppliers Expo, Wednesday 16 June 2021, at the Goldfields Arts Centre in Kalgoorlie.
April 2021
Processing AELD0002 Core.
March 2021
Aircore drilling at Goongarrie during March 2021.
February 2021
RIU Explorers Conference
January 2021
Diamond drilling at Lily Albany and RC drilling on the Brighton Grafters Trend.
November 2020
Drilling at Binti Gossan.
October 2020
Drilling at Zeus.
July 2020
Exploration drilling at Lady Charlotte prospect within the Grafter area.
July 2020
Ardea's Goongarrie Nickel Cobalt Project.
July 2020
Ardea's Aphrodite North gold exploration drilling.
April 2020
Bulong field work.
March 2020
February 2020
Ardea project evaluation for gold exploration in the Eastern Goldfields.
February 2020
Andrew Penkethman (Managing Director and Chief Executive Officer) and Matt Painter (General Manager – Exploration) at the RIU Explorers Conference Fremantle.
November 2019
Lady Isobel Prospect.
July 2019
Andrew Penkethman (CEO) and Matthew Painter (General Manager – Exploration) at Sprott Natural Resources Symposium 2019.
May 2019
In the booth at Sydney Resources Round-Up. Matthew Painter (General Manager – Exploration), Andrew Penkethman (CEO).
April 2019
Goongarrie Nickel Cobalt Project
October 2018
Ardea Resources supporting Goldfields Child Care Centre
September 2018
Bedonia Field Trip
July 2018
Mt Zephyr: Dunns Line trend – Matt leaves his desk behind and finds a few orebodies, Mt Zephyr sampling in full-swing.
Bush diary in the wilds of Canada: Today Matt presented to the Sprott conference. The presentation was extremely well received, the second photo shows the all investors holding back to ask questions (even though free drinks were being served outside). Extremely well presented and well received presentation, we had conversations with investors for the next hour and half. We have spoken with at least half a dozen Ardea shareholders today, the first day of the conference has been a success. It was a very proud Ardea moment when Matt presented today!
Mt Zephyr recon field trip: Harry, Matt at work on BIF outcrop and the 'subtle' subcrop zones.
October 2017
June 2017
Black Range Cobalt Project
May 2017
First cobalt core hole completed at Goongarrie South, KNP Cobalt Zone. Ongoing core drill program will be focussed on cobalt and will generate representative samples for developing the KNP Cobalt Zone metallurgical flow-sheet.
February 2017
Ardea personnel have been busy getting drill sites ready at KNP Cobalt and Mt Zephyr, to facilitate start of exploration programs on ASX listing.