Ardea Resources Limited
is a focused developer
and explorer.
High quality suite of development and exploration assets.
Focus on advanced-stage development projects cobalt and zinc-gold.
Drilling and feasibility programs underway at two projects with near-term news flow.
Shareholder returns to be maximised by on-the-ground activity.
Highlights
Drilling confirms continuity of cobalt and nickel mineralisation
RC drilling at Goongarrie Nickel-Cobalt Project to improve confidence and upgrade resources delivers better than expected results
Final stages of Pre-Feasibility Study refinement to optimise the flowsheet for the Goongarrie Nickel Cobalt Project.
Infill RC drilling confirms continuity of mineralisation in optimised pit footprint areas:

Ensures reliability of modelling and mine scheduling
Providing samples for variability test work and marketing studies

Better than expected intercepts are from outside the areas planned for early stage mining, including:

AGSR0005 32 m at 0.09 % cobalt and 1.06 % nickel from 16 m
including 14 m at 0.15 % cobalt and 1.46 % nickel from 22 m
AGSR0009 56 m at 0.07 % cobalt and 1.09 % nickel from 12 m
including 16 m at 0.11 % cobalt and 1.20 % nickel from 30 m
AGSR0015 32 m at 0.08 % cobalt and 0.87 % nickel from 32 m
including 24 m at 0.10 % cobalt and 0.99 % nickel from 36 m

Many of these intercepts are from the Elsie South deposit, adjacent to the proposed plant site
RC drilling is ongoing. Further results to be reported once compiled.
Diamond drilling has commenced:

Will provide QAQC confidence in RC drilling results
Primary source for metallurgical variability test work samples
Source for production of marketing samples
Targeted, intensive exploration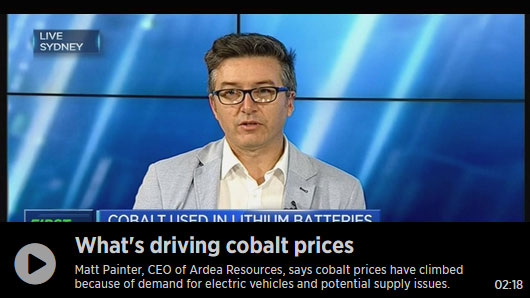 Ardea aim to increase shareholder value through a targeted and intensive exploration program. The Company plans to spend up to A$5 million mainly on drilling over two years on currently defined targets. A focused evaluation of each of the Company's four leading projects to assess and rank development priorities will be undertaken.
Projects
KNP Cobalt Zone – Australia's Premier Cobalt Resource
KNP is one of the largest cobalt deposits in the developed world: With over 700Mt of defined cobalt and nickel mineralisation, Ardea is focusing on the high-grade Cobalt Zone: 64.4Mt at 0.13% Co & 0.77% Ni (81kt Co and 495kt Ni contained metal). The Goongarrie Nickel-Cobalt Project is part of this zone. The PFS is nearing completion – for the latest click here.
Lewis Ponds Gold-Zinc Project
Bulk tonnage Exploration Target defined: Main Zone and Tom's Zone JORC resource 6.6Mt at 1.5g/t gold and 2.4% zinc 1, strong potential to expand the tonnage, including untested up-dip surface oxide gold targets. Significant base metal-gold open-pit potential, with orogenic gold and base metal mineralisation defined which is very similar to other large deposits in the region, including Regis Resources McPhillamys 2.2Moz gold discovery located along structure 20km southeast.
9/3/17 Release – First diamond drill hole at Lewis Ponds has successfully intercepted over 50 m of massive, banded, and stringer zinc sulphide mineralisation. Drilling is ongoing.
Mt Zephyr Gold and Nickel Sulphide Project
Gale gold, associated with the domain boundary Celia Lineament, 273ppb gold in soils, 18m at 0.5g/t gold in RAB from surface to RAB refusal, no RC drilling of the central anomaly (700m x 100m RAB anomaly), geological setting comparable to the Dacian Gold Jupiter 'syenite-hosted gold' discovery located along structure 50km southeast. Jones Area A and B nickel sulphide, Mt Windarra ultramafic stratigraphy with discrete magnetic highs associated with 'Silver Swan-style' ultramafic channels, no previous RC drill testing or modern deep penetration ground and down-hole EM.
Bardoc Tectonic Zone and East Kalgoorlie Gold Projects
Big Four 6m at 8.6g/t gold historic drill-hole, open soil gold anomaly to south. Taurus 5m at 38g/t gold historic drill-hole, 50 ounces recent gold nugget discoveries.
Gallery