Ardea Resources Limited
is a focused developer
and explorer.
High quality suite of development and exploration assets.
Focus on advanced-stage development projects cobalt and zinc-gold.
Drilling and feasibility programs underway at two projects with near-term news flow.
Shareholder returns to be maximised by on-the-ground activity.
Highlights
Ardea Delivers Outstanding Pre-Feasibility Study for the Goongarrie Nickel Cobalt Project with Significant Expansion Potential
1.0 Mtpa base case over an initial 25-year mine life is readily capable of expansion to reflect the orebody's larger production potential.
95.5 % cobalt recovery and 94.5 % nickel recovery (life of mine).

Strong financials for both the base 1.0 Mtpa and 1.5 Mtpa cases.

Case
Pre-tax NPV8
Post-tax NPV8
IRR Payback
1.0 Mtpa
A$1.43 billion
A$1.04 billion
25 %
5.3 years
1.5 Mtpa
A$1.93 billion
A$1.40 billion
25 %
5.6 years

1.0 Mtpa base case production.

5,500 tpa of cobalt sulphate (1,180 tpa contained cobalt).
41,500 tpa of nickel sulphate (9,300 tpa contained nickel).
Capital cost of A$599 million including A$77 million contingency.
Competitive industry C1 cash cost of US$0.42/lb nickel metal (after cobalt credits).

Strong interest from potential EPC and offtake partners.
Definitive Feasibility Study (DFS) programs underway.
Upside options being assessed, including higher throughput/shorter autoclave residence time, multiple parallel trains, mineralised neutraliser optimisation, and scandium production.
Goongarrie reserve is less than 5 % of the total Kalgoorlie Nickel Project (KNP) resource, confirming the project's potential scalability.
Targeted, intensive exploration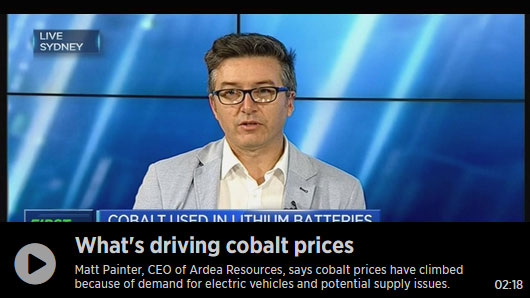 Ardea aim to increase shareholder value through a targeted and intensive exploration program. The Company plans to spend up to A$5 million mainly on drilling over two years on currently defined targets. A focused evaluation of each of the Company's four leading projects to assess and rank development priorities will be undertaken.
Projects
KNP Cobalt Zone – Australia's Premier Cobalt Resource
KNP is one of the largest cobalt deposits in the developed world: With over 700Mt of defined cobalt and nickel mineralisation, Ardea is focusing on the high-grade Cobalt Zone: 64.4Mt at 0.13% Co & 0.77% Ni (81kt Co and 495kt Ni contained metal). The Goongarrie Nickel-Cobalt Project is part of this zone. The PFS is nearing completion – for the latest click here.
Lewis Ponds Gold-Zinc Project
Bulk tonnage Exploration Target defined: Main Zone and Tom's Zone JORC resource 6.6Mt at 1.5g/t gold and 2.4% zinc 1, strong potential to expand the tonnage, including untested up-dip surface oxide gold targets. Significant base metal-gold open-pit potential, with orogenic gold and base metal mineralisation defined which is very similar to other large deposits in the region, including Regis Resources McPhillamys 2.2Moz gold discovery located along structure 20km southeast.
9/3/17 Release – First diamond drill hole at Lewis Ponds has successfully intercepted over 50 m of massive, banded, and stringer zinc sulphide mineralisation. Drilling is ongoing.
Mt Zephyr Gold and Nickel Sulphide Project
Gale gold, associated with the domain boundary Celia Lineament, 273ppb gold in soils, 18m at 0.5g/t gold in RAB from surface to RAB refusal, no RC drilling of the central anomaly (700m x 100m RAB anomaly), geological setting comparable to the Dacian Gold Jupiter 'syenite-hosted gold' discovery located along structure 50km southeast. Jones Area A and B nickel sulphide, Mt Windarra ultramafic stratigraphy with discrete magnetic highs associated with 'Silver Swan-style' ultramafic channels, no previous RC drill testing or modern deep penetration ground and down-hole EM.
Bardoc Tectonic Zone and East Kalgoorlie Gold Projects
Big Four 6m at 8.6g/t gold historic drill-hole, open soil gold anomaly to south. Taurus 5m at 38g/t gold historic drill-hole, 50 ounces recent gold nugget discoveries.
Gallery