Ardea Resources Limited
is a focused developer
and explorer.
High quality suite of development and exploration assets.
Focus on advanced-stage development projects cobalt and zinc-gold.
Drilling and feasibility programs underway at two projects with near-term news flow.
Shareholder returns to be maximised by on-the-ground activity.
Highlights
Black Range cobalt, nickel, scandium and platinum / palladium resources
UPDATE 31 Oct 2017
New scandium and platinum+palladium (PGM) resources are defined for the Black Range cobalt-nickel deposit.

The new resources cover only a portion of the strike length of the deposit, so are initial estimates pending further data.

The recently remodelled cobalt and nickel resources at Black Range are 19.2 Mt at 0.09 % Co and 0.68 % Ni. This is overlapped by new Inferred scandium and PGM resources that will require mining of the cobalt-nickel zone if they are to be exploited:

a new inferred resource of 8.70 Mt at 65.6 g/t scandium partly inside the 19.2 Mt cobalt-nickel zone; and
a new inferred resource of 6.55 Mt at 0.54 g/t PGMs (0.33 g/t platinum and 0.21 g/t palladium) partly inside both the cobalt-nickel and scandium zones

As each resource overlaps the other, the values presented cannot be added to define a total resource.
The limited spatial extent and therefore the tonnage of the scandium and PGM resources is expected to be expanded by future drilling.
Extraction of these metals is feasible using flowsheets presently under assessment by the Company to extract cobalt and nickel.
Read full announcement (31 October 2017)
KNP Cobalt Zone global resource updated
Targeted, intensive exploration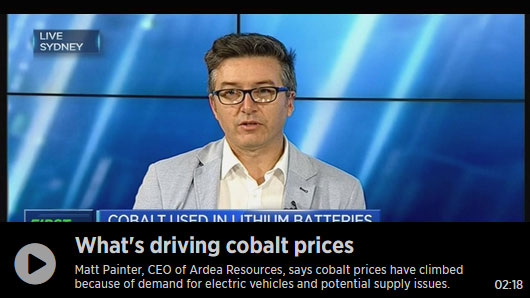 Ardea aim to increase shareholder value through a targeted and intensive exploration program. The Company plans to spend up to A$5 million mainly on drilling over two years on currently defined targets. A focused evaluation of each of the Company's four leading projects to assess and rank development priorities will be undertaken.
Projects
KNP Cobalt Zone – Australia's Premier Cobalt Resource
KNP is one of the largest cobalt deposits in the developed world: With over 700Mt of defined cobalt and nickel mineralisation, Ardea is focusing on the high-grade Cobalt Zone: 64.4Mt at 0.13% Co & 0.77% Ni (81kt Co and 495kt Ni contained metal). More than $50m spent historically on drilling and metallurgy by previous owners, circa 400,000 metres of historical drilling and detailed metallurgical work.
Lewis Ponds Gold-Zinc Project
Bulk tonnage Exploration Target defined: Main Zone and Tom's Zone JORC resource 6.6Mt at 1.5g/t gold and 2.4% zinc 1, strong potential to expand the tonnage, including untested up-dip surface oxide gold targets. Significant base metal-gold open-pit potential, with orogenic gold and base metal mineralisation defined which is very similar to other large deposits in the region, including Regis Resources McPhillamys 2.2Moz gold discovery located along structure 20km southeast.
9/3/17 Release - First diamond drill hole at Lewis Ponds has successfully intercepted over 50 m of massive, banded, and stringer zinc sulphide mineralisation. Drilling is ongoing.
Mt Zephyr Gold and Nickel Sulphide Project
Gale gold, associated with the domain boundary Celia Lineament, 273ppb gold in soils, 18m at 0.5g/t gold in RAB from surface to RAB refusal, no RC drilling of the central anomaly (700m x 100m RAB anomaly), geological setting comparable to the Dacian Gold Jupiter 'syenite-hosted gold' discovery located along structure 50km southeast. Jones Area A and B nickel sulphide, Mt Windarra ultramafic stratigraphy with discrete magnetic highs associated with 'Silver Swan-style' ultramafic channels, no previous RC drill testing or modern deep penetration ground and down-hole EM.
Bardoc Tectonic Zone and East Kalgoorlie Gold Projects
Big Four 6m at 8.6g/t gold historic drill-hole, open soil gold anomaly to south. Taurus 5m at 38g/t gold historic drill-hole, 50 ounces recent gold nugget discoveries.
Gallery